Monitoring indoor air quality in Madrid's hospitals: InBCS installs almost 100 Enless sensors!
The challenge of the health emergency for public spaces
Poor indoor air quality can have a direct negative impact on the health of a building's occupants. The main air quality indicators tend to be the temperature, CO2, VOC (Volatile Organic Compounds) and humidity levels of a room. Monitoring these levels makes it possible to maintain the comfort and health of the people using the room.
In the context of today's health emergency and COVID-19, European health authorities have drawn up new recommendations for the relevant temperature and CO2 thresholds. For instance, these specify that exceeding the 1000 ppm level in interior environments presents a health risk for those present in the room.
As explained for us by Sandra González, co-founder of InBCS in Spain, "the health authorities have drawn up new recommendations relating to controlling and monitoring interior air quality", including in particular for public buildings in which significant numbers of people come together within enclosed spaces that are highly favourable for the transmission of COVID-19.
Thus, to comply with official government recommendations and to prevent the propagation of the virus, Spanish hospitals were determined to implement measures that would enable them to monitor indoor air quality.
Monitoring indoor air quality to protect the health of users

Over recent months InBCS and Enless Wireless have worked together to supply comprehensive IoT solutions for the Spanish market. InBCS is a Spanish integrator company, operating throughout Spain since 2018 and specialising in process control applications and automation. The company delivers innovative digitalization and industry 4.0 solutions making use of the very latest market technologies.
Working with Air Liquide HeathCare, InBCS was able to install a comprehensive system in two hospitals in Madrid, enabling them to monitor and control interior air quality. The objectives of these two projects were focused on:
Improving the health of the occupants and healthcare staff in the hospitals
Applying the latest health authority recommendations
Enabling the necessary actions in the event of detected non-compliance
These objectives were made reality by using a dedicated platform for the real-time monitoring of air quality and the performance of data analyses (ppm, ppb, °C and %rH).
Installation of Enless equipment in two hospitals in Madrid
A total of 87 of our wireless radio devices have been installed in two of Madrid's hospitals using our LoRaWAN wireless technology, in private mode. 79 of our transmitters specially designed for indoor applications have been installed to check compliance with the relevant health and safety requirements (CO2, VOC, temperature and ambient temperature).
Sandra González, co-founder of InBCS, explains: "The Enless TX CO2 VOC T&H 600-023 air quality sensors can be easily connected to a LoRaWAN network, and configuring these using the network server is simple. In terms of the price, these sensors are very competitive compared to other products available on the market".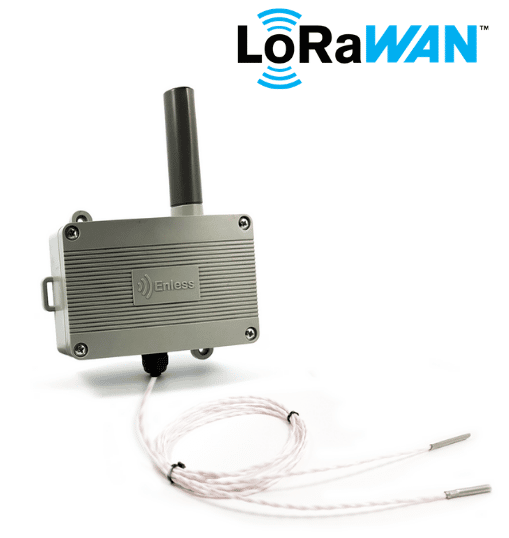 In addition, 8 of our PT1000 two external temperature contact probes transmitters were also installed to monitor the temperature of the refrigerators in one of these Madrid hospitals. These probes allow the remote measurement of temperatures, in contact with surfaces. This product range has two contact probes that can measure temperatures as low as -180°C and has an IP 65 housing, making them operatable in all environments, often under extreme conditions.
The transmitters communicate using Kerlink or Multitech LoRaWAN gateways.The data collected by the Enless sensors can then be visualised on InBCS's own IoT platform, known as InIAQ. Thanks to real-time data displays the teams at InBCS can warn maintenance staff if the air quality or the temperature in the various zones drops out of compliance.
"The aim of these projects was not to generate cost savings but to help improve people's health. With this system we can monitor air quality throughout the hospital in real-time and, if, at any moment, the air quality deteriorates, the maintenance staff can take immediate action to rectify this." – Sandra González, co-founder of InBCS.
And the future?
These two projects in Madrid were designed to ensure future reproducibility. InBCS intends to continue its collaboration with Air Liquide HeathCare to increase the reach of this solution and intends to install Enless sensors in new Spanish hospitals, as well as in other sectors such as industry.
---
Click on the icons below to post this article on social networks >>>