Remote configuration and alert thresholds : discover our advanced functionalities !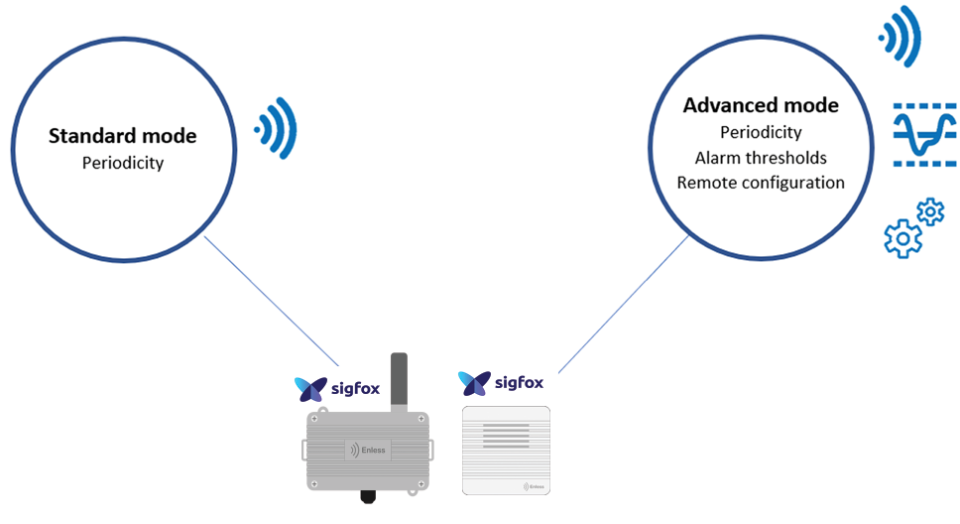 You want to change… without manual intervention… the frequency of your transmissions to reflect seasonal loads and to save battery life?
You want to ask your transmitters to send threshold breach alerts in real time?
In hot periods, the risk of energy overconsumption is high… which is why you need to set your data readings to be more frequent when the weather's hot !
Will your site be unoccupied for long periods (such as school holidays?)
Is one of your sites particularly sensitive, and you want to generate alerts in real time that don't depend on preconfigured periodicities ?
All Enless Wireless Sigfox range products have an advanced configuration mode that lets you optimise performance in a smart way tailored to your needs.
See below for details of our advanced functionalities

Frequency of transmission:
Set the data transmission intervals.

You can configure high and low alert thresholds for your transmitter, ask your transmitter to wake up frequently and to take a reading. If the threshold is breached (upwards or downwards) your transmitter will immediately send an alert with temperature and humidity information.

You can configure your Enless Wireless transmitters so that they periodically query whether a new configuration (downlink) is available. If, in the meantime, upstream, you have changed the configuration of the group to which the transmitter belongs, it will retrieve it automatically without you having to intervene manually. If you do not activate this functionality, the only way to change the configuration of the transmitter is to force the downlink query by manually powering-off the transmitter and powering it on again.
–> For advanced configuration, go to Sigfox Backend, and enter the DEVICE TYPE hexadecimal configuration code associated with your transmitter.*
* Interested? Contact our helpdesk at support@enless.fr for technical support to enable advanced functionalities on the Enless Wireless Sigfox transmitters.
Click on the icons below to post this article on social networks >>>