OFIS – VEOLIA uses Enless transmitters to offer continuous prevention in DHW systems
The project
OFIS — an engineering-consultancy subsidiary of Veolia specialising in internal air and water quality systems in buildings for over 25 years — in 2016 wanted to add continuous metering to the services that it offers.
"We wanted to offer our customers service agreements that included continuous prevention features for their DHW systems. This move was essential for us to enhance customer loyalty," says Benjamin Midena, Head of OFIS Expertise.
After a benchmark calculated on existing remote reading systems distributed in France, OFIS decided to entrust monitoring to Enless Wireless as it has more than 10 years expertise in developing Low-Power, Ultra Long Range transmitters that are easy and fast to install. Testing was completed by 2018 and devices have then been deployed.
Driven by stringent legislation, the purpose of the installations was to enable closer monitoring of domestic hot water systems to eliminate Legionella risk.*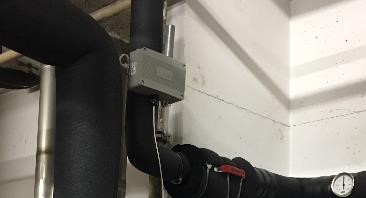 The first solutions deployed were 169 MHz Wireless M-Bus. Numerous Enless Wireless temperature transmitters with external contact probes were installed at four different sites including one establishment dedicated to dependant elderly people and three regional hospitals in the French regions of Var, Alsace and Gard, with 12 to 25 sensors per establishment. Transmitters placed at various points in the domestic hot water systems send their information to an Enless Wireless receiver, which is connected to a robot. The data is visualised and analysed via the dedicated "Temp'eau" interface developed by OFIS for the prevention of the legionella risk.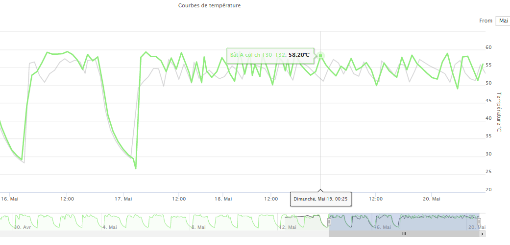 "We developed our business application "Temp'eau" further in late 2018 to give our teams and customers a more powerful app that would include email and sms alerts as well as periodic statements. This was also designed and developed to be scalable with other future rollouts of Enless Wireless temperature transmitters, this time specifically with Sigfox networks. Integrating Sigfox transmitters will boost our flexibility and ability to cater to smaller players," says Benjamin Midena at OFIS.
With what results?
The technology installed today enable to detect temperature losses in the DHW system at a healthcare institution in the French region of Gard. The introduction of a general energy saving policy at the establishment had produced a major reduction in temperature levels in its DHW system, which was incompatible with Legionella prevention legislation. The monitoring system, coupled with an alert system via the Temp'eau API enables rapid response to raise temperature levels and prevent infection.
The solutions deployed have also enabled a Healthcare establishment to communicate data of the temperature of its internal systems, to justify the installation of a balancing solution and meet Public Health Authority temperature reporting requirements.
OFIS intends to continue deploying continuous monitoring solutions for its customers. The Veolia subsidiary also plans to set up Pulse transmitters for pulse water meters, to complete the installation work it has undertaken so far.
* >About Legionella risk:
Legionella risk is closely regulated by French institutions. There is actually a real risk if we consider that bacteria propagates in hot water systems when the water temperature is between 30°C and 45°C.
Contamination by bacteria, which can be by inhalation of microdroplets of contaminated water, can lead to serious pulmonary infection – Legionella – which is a type of pneumonia and can be seriously health- and life-threatening for individuals who contract it.
Legislation requires domestic hot water systems to be kept above 50°C, with reasonably regular checks depending on the type of establishment. Nursing homes (EHPADs) and hospitals / health establishments are subject to particularly stringent requirements, due to the susceptibility of the people they care for.
>About OFIS :
OFIS is the engineering consulting arm specialising in health risks, at Veolia Group, a world leader in optimal resource management.
OFIS has been operating for more than 25 years in environmental and sanitary performance of buildings as a partner with tertiary and health establishments, and managers and operators of collective housing and industrial properties.
Known in particular for its expertise in controlling Legionella, OFIS supports all projects aimed at improving health and environmental performance, for the benefit of the people living in them. The quality of OFIS services is recognised by certification bodies including COFRAC, CSTB and OPQIBI.
Click on the icons below to post this article on social networks >>>